We're heading to the beach this weekend with Lennie and his family. It's going to be fun, but I am hoping to get in at least one long easier paced ride, maybe even riding part of the way back to Birmingham on Sunday before Kristine picks me up. No matter what, I am definitely not racing this weekend or next. Only two more race weekends left!
Saul Raisin's Raisin Hope / Tour the Town Criterium on October 5th. Then the Downtown Greenville Cycling Classic the following weekend October 11th-12th. Then that's it!
This weekend … check it out – we are going to the beach! Here's a map from Birmingham to Seagrove Beach, Florida where we will be staying.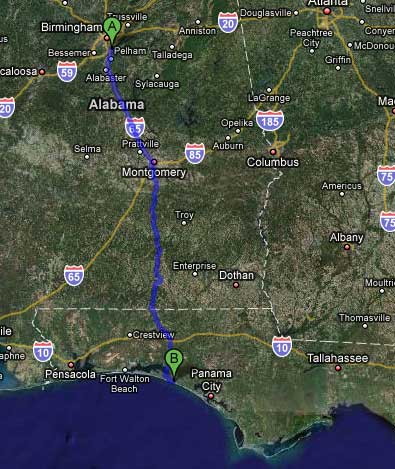 We are taking our bike trailer because we are close to some very cool bike paths so we want to take the kids on a ride. I think we are going to take a bike for Kristine, too, so this will be the first time she has been on bike since UC Davis!