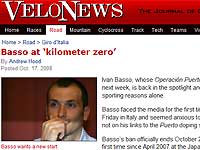 Ivan Basso will be racing again very soon at the Japan Cup on October 26. I personally am glad that he is racing again, and I hope that he really has put the temptation to dope behind him. I like his plan of publishing all of his workouts, power data, etc… online so that people can see how much he is training and how realistic a given performance is. This is similar to the approach by Greg Lemond to address the doping problem.
Greg Lemond is proposing that riders be more transparent with their power data so that an abnormally large spike in power output that cannot be attributed to physiological peaking for an event would be better evidence of doping than blood urine tests. This is a very good idea, but the accuracy and reliability of power meters would call this into question. Plus, how could one define what the upper limit is if you are having a really good day? Also, what if a rider's power meter were to "break" on the day(s) that they dope? I am guessing that some of this would be combined with regular testing too. Still, Lemond's idea is good because the more transparency we have, the harder it will be to cheat.
So that is why I like to put all my power data online. Coming soon (probably early next week) I will post my season statistics. I can already tell you that my mileage and time on the bike was up from last year:
| | | |
| --- | --- | --- |
| | 2008 | 2007 |
| Hrs/week | 14.65(avg), 20.18(max) | 13.62(avg), 18.01(max) |
| Miles/week | 252.2(avg), 337.1(max) | 241.5(avg), 358.3(max) |
2008 Totals (1/1/08 – 10/12/08)
10,339 miles and 526,785 feet of climbing (12,848 feet per week)
I'll do a more complete post with graphs later!