Updated with excellent photos my wife took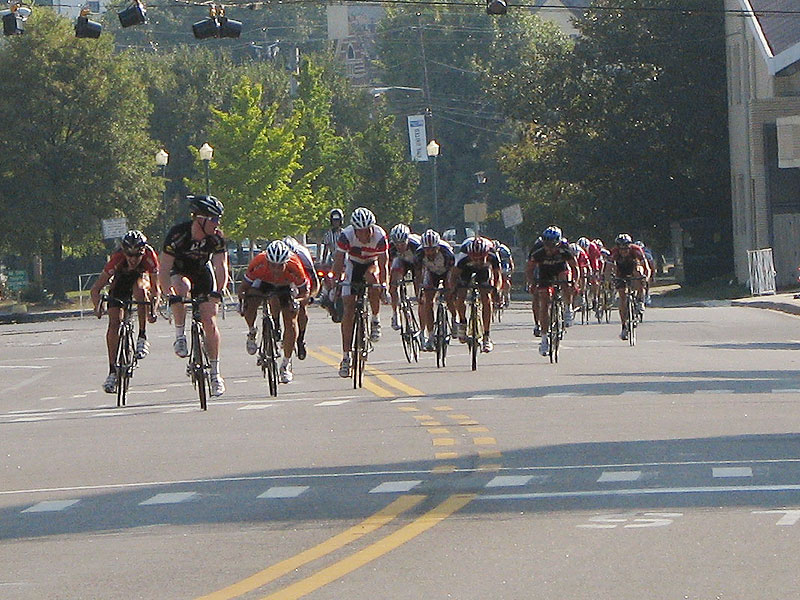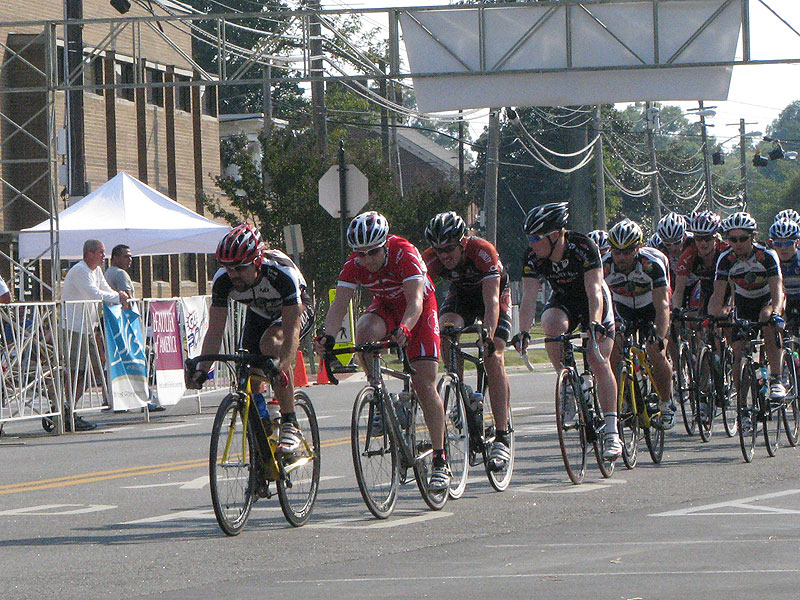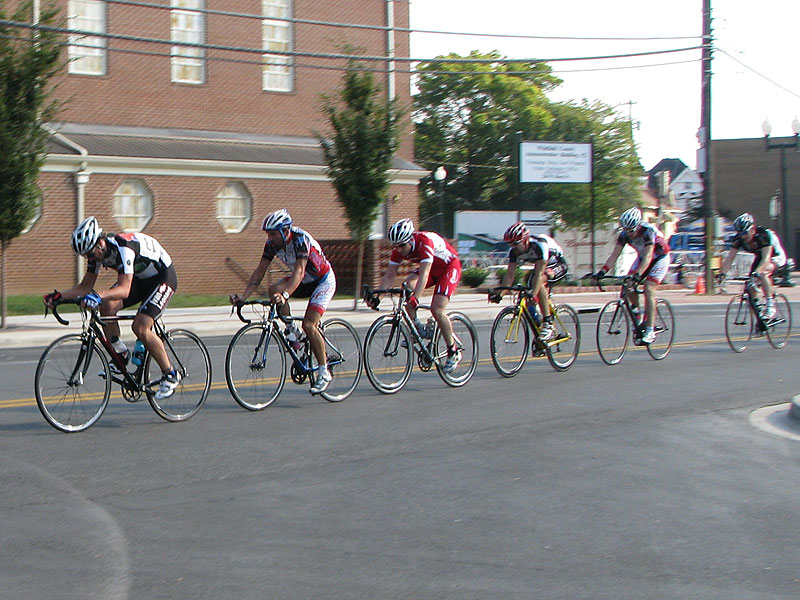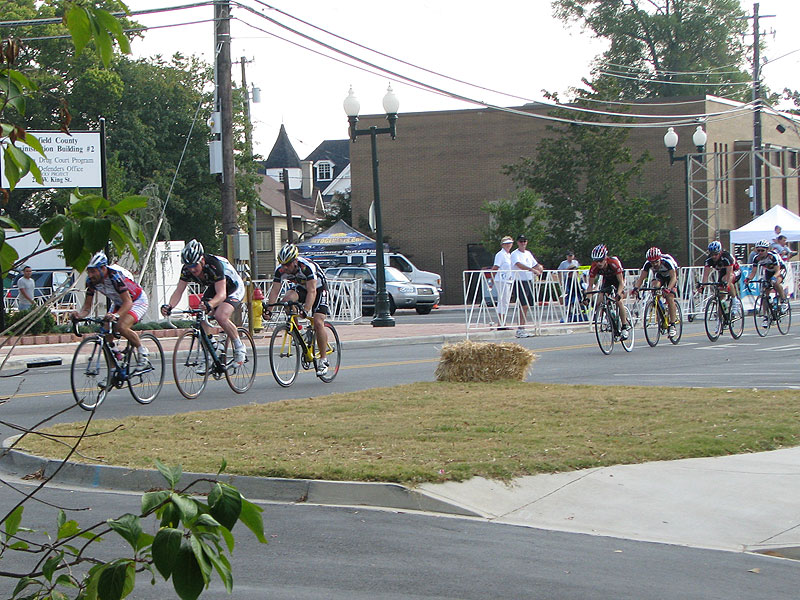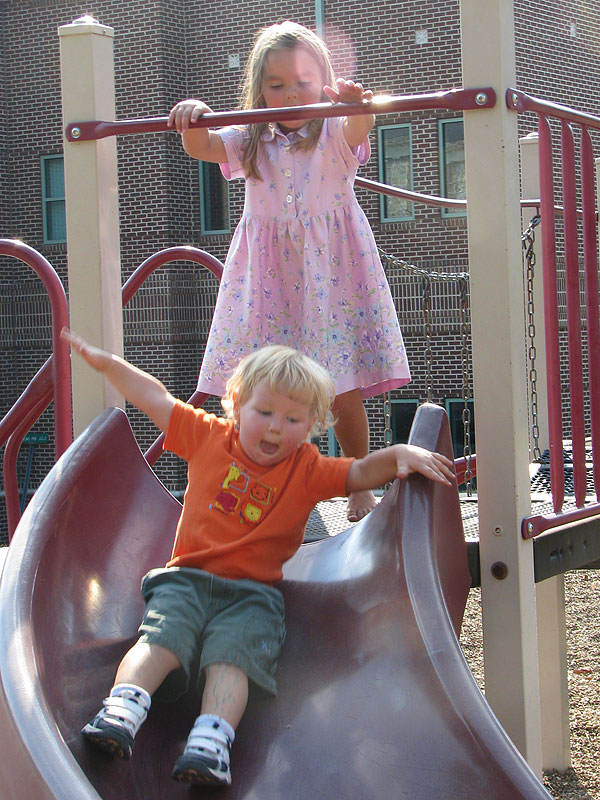 Summary: Excellent team race, 4th (me), 14th (Mike), and a great leadout (Stuart). Good practice for a variety of situations that can come up in a race.
The Details: Stuart, Mike and I lined up in a small field – three riders from Hincapie Development (AJ Meyer, Ben Gabardi?, and Steve Carpenter), two riders from Team Type One masters (orange and white kits), one rider from Team Type One (Phil Southerland), two riders from Myogenesis (Eric Murphy and Cleve Blackwell), John Murphy (Healthnet), and about 10 other riders to make a total field size of 22. They combined the P/1/2 and the Cat 3 fields so they shortened our race from 60 minutes to 40 minutes.
I got the hole shot into the first corner and wound up leading the field for the first couple laps at about 20-22mph waiting for an attack. It wasn't coming so I attacked before turn 1 at the beginning of lap 3 when they called a prime for the next lap. Stuart countered my move to move into position for the prime, but John Murphy attached himself to his wheel. I was feeling really good and thought that I could sneak onto Murphy's wheel and take the prime, but he was too fast and that left the three of us just off the front with Murphy a little ahead of Stuart and I. It looked like Murphy was going to sit up so Stuart and I sat up and let the front of the group catch up to us for someone to take up the chase. There was a strong attack from a Hincapie Development rider who quickly bridged to Murphy. It looked dangerous so I attacked and made a short bridge onto them before the end of Lap 4.
By this time, there was a split in the group that left seven of us up front in the break – me, John Murphy, Cleve from Myogenesis, Steve Carpenter and AJ from Hincapie Development, David McNeal, and Steve from Team Type One development. Our break was not a happy family with several attacks from Hincapie, from Murphy, from Myogenesis. When we were getting close to lapping the field, Murphy attacked and got away by himself being the first to make the bridge. I waited until the rest of us made it up to the field and then attacked to go off the front of the field. But at this point, there was enough fresh legs to keep everything together (including pulling back Murphy) to the end. That's what happened – a field sprint, but there was some excellent teamwork leading up to it.
Mike and Stuart both moved to the front of the field once we all came back together. Mike put in a few attacks which was great, because some of the people who were in the break with me ended up chasing them down causing them to get tired. Perfect. Stuart also got to the front and drilled the pace for several laps to discourage any attacks, which gave me a chance to rest at the front of the group without worrying if any of my breakaway companions were going to attack. Then at the very end, Stuart ramped the pace way up to discourage any last lap attacks. I slotted into the top 5 going into the last two turns, but I chose the wrong wheel and the rider I was on sat up coming out of the last corner and I had to chase around but I couldn't catch the top 3 and I ended up 4th. Mike sprinted well to finish 14th and Stuart had already set up the perfect leadout but I got a little bit unlucky sitting on the wrong wheel for the sprint. Ok, so that was it. Good result, EXCELLENT practice for next week.
Here is my heart rate and power data: