Quick summary: 77th, 3 minutes and 48 seconds behind today's winner, which moved up 45 spots in the general classification to 82nd, about 6 minutes 45 seconds back from the overall leader
The stats: 104 miles, 24.2mph, 306 watts avg power, 150 bpm avg heart rate, nearly 8000′ of climbing!, 4:18:05
The details: Whew. Hard race. 9 laps of a hilly 11.5 mile circuit followed by a 3k climb to the finish. Crazy, crazy, crazy, crazy descent where I maxed out at over 60mph! My stats show 59.3, but that is at 5 second intervals, I know I topped out over 60. Several other people in the race registered in the mid 60s for a top speed — and we did that descent 8 times!
First, the race was a little crazy because there were a lot of us and the officials were half-heartedly trying to enforce the yellow line rule. NRC races are not supposed to have a yellow-line rule for road races! There was one rough stretch of pavement, but mostly the roads were a ton better than the TT course yesterday. The first lap was fast and I did the climb at the front of the group. The second lap was also fast, but I started out nearer to the back of the group for that climb. The next five laps were not as fast with my teammate Stefan Rothe up the road with Shawn Milne (Team Type I). Then on the eighth lap I got caught on the backside of a major split in the peleton. I helped chase back onto the group by the bottom of the major downhill. The same thing happened again on the last lap except this time the peleton split roughly in half, and I was in the first chase group of about 10 riders on the wrong side of the split. We nearly caught back up right at the bottom of the finishing climb. A lot of people from the peleton had given up so I passed about 10 people on the finishing climb, but I also eased up towards the top to try to save my legs some for tomorrow's tough circuit race.
The team had a great race with Mike Olheiser taking the first KOM sprint and then placing 12th overall for the day. Stefan Rothe got into a breakaway with Shawn Milne and was away for over 5 laps (55 miles) before flatting and falling back to the field. Everyone else stayed with the main field until the last climb when everything shattered.
Ok, that's about it for tonight. Here's my heart rate and power data along with my stats each time up the circuit climb and the last time up the finishing climb: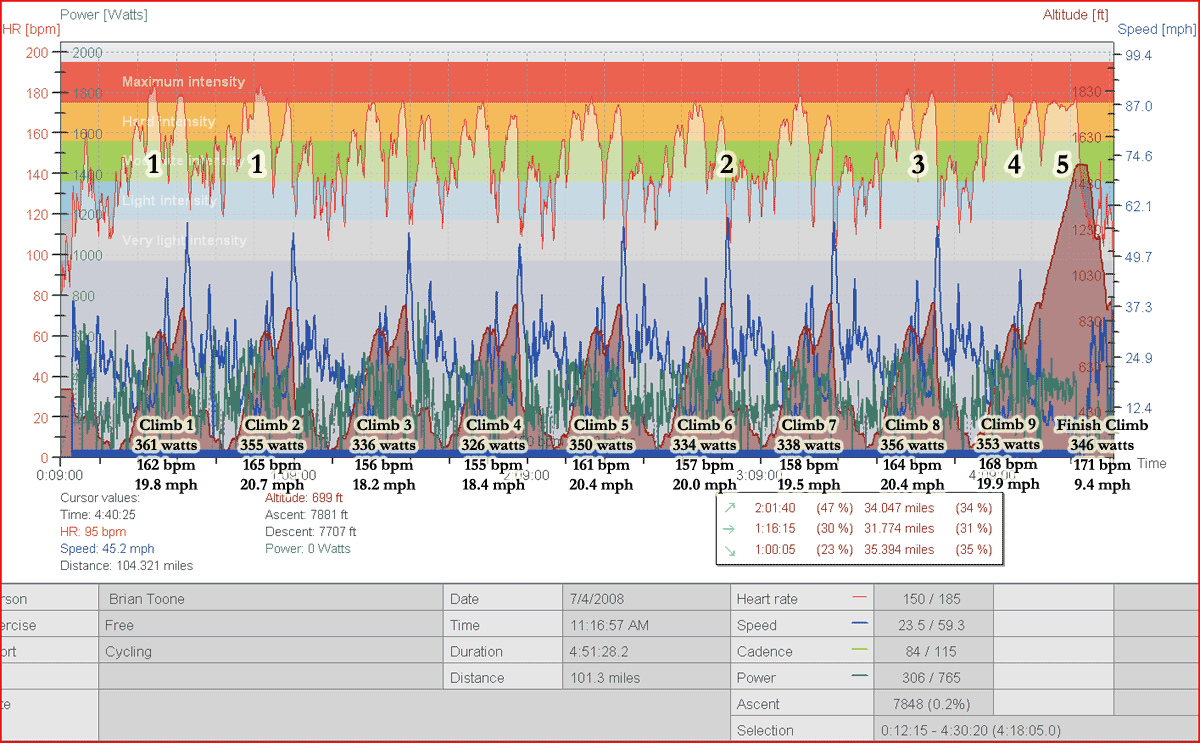 First and second time up the climb were very hard
Max speed of over 60 mph!
Chasing back onto the group after getting gapped off on the feedzone climb
Chasing again nearly onto the back of the pack before the start of the finishing climb
The finishing climb – absolutely beautiful view from the very top of the ski resort mountain. Breathtaking wilderness view.