Quick summary: not dead last (127th out of 145 if you count the people who didn't start), thunderstorm, "the river", "the lake", epic.
The details: I had a great warm-up and was feeling very good with my TT position on my road bike. My TT bars were far enough out that I could stand comfortably without hitting my knees. One downside is that I had to slide very far forward on my seat in order to have my arms at the right angle. Still, I felt great and felt like I was putting a lot of power into the pedals on the hills as I was warming up.
As I rolled up to the start line, I could see the storm clouds slowly moving in. I was one of the last starters so it was quite a disadvantage since a good majority of the field got to ride it in dry conditions. Five, four, three, two, one and right as I took off the thunderstorm hit with a torrential downpour, a little thunder and lightning, too. This normally wouldn't have been so bad, except that the heavy rains obscured the cracks, uneven pavement, and potholes. A few times I almost fell and each time I scrubbed speed to make sure that I didn't fall.
Even with all of that, I was having a bad TT but it wasn't the worst in the world until I tracked right into "the river". Yes, the rain was so hard that it had created a virtual river running down the righthand side of the road on one of the steeper climbs. I didn't see it in time and ended up riding straight into it, nearly falling, and having to slow way down in order to get out of it and back onto the part of the road that didn't have a river in it. Then at the bottom of the next downhill was "the lake" where enough water had pooled on top of a narrow bridge that it formed a lake that you came flying into at 30mph, huge splash, but kept it upright. Finally, a very sketchy 35mph downhill to the finish line, with potholes, uneven pavement. Nasty, cold, epic. Here's my HR and power data for the ride: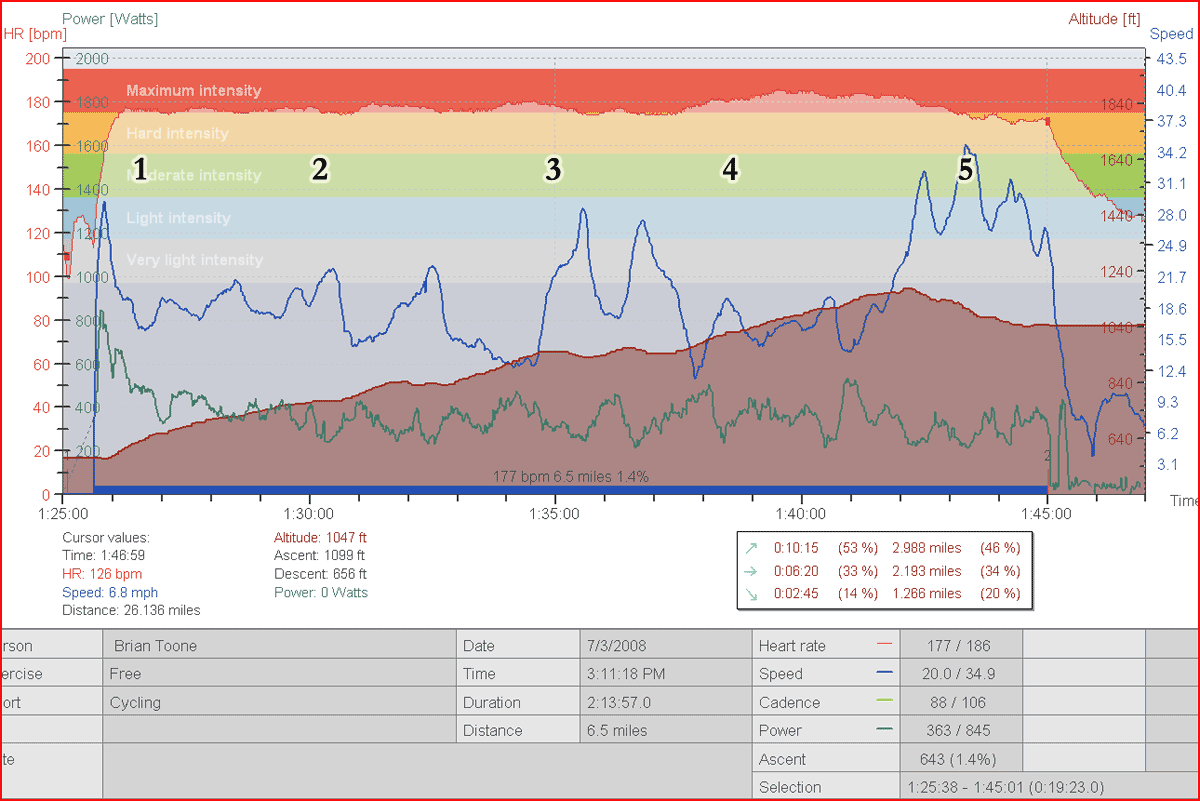 Going out way too hard
Paying dearly for going out way too hard
OK on the steeper hills, nothing left for flats or downhills
Better here on the steepest climb
Very sketchy downhill
In summary, I went out way, way too hard averaging almost 580 watts for the first minute, dropping to 421 watts for the next minute, 381 watts for the third minute, 324 watts for the fourth minute, and then averaging only 342 watts for the rest of the TT. Even then, the only reason I was able to manage an overall average of 363 watts is because I was still able to crank out some wattage on the steeper climbs. Hopefully, that means good things for tomorrow's 104 mile road race.