TLDR – It was tough
I had imagined this as being a slightly faster, slightly longer version of my normal multi-day adventures around the South. What I hadn't counted on was how exhilarating it would actually be to do the ride and how I would overextend myself early in all the excitement. They had great food at the checkpoints, but none of it is what I was used to eating during long multi-day adventures. I cramped hard after about 60 miles of riding, and it took a while to start riding again. After that, I had to ride much slower for a long time before eventually finding my rhythm.
Overall, it was an absolutely amazing experience. Even early on when I was riding far too fast and not drinking enough water, I had the feeling that it must feel a little bit like riding the Tour de France: flying through towns, communicating with other riders to avoid "traffic furniture", racing by people of all ages throughout the course who cheered us on with "allez, allez". I enjoyed meeting so many different riders from all over the world who share my same passion for long distance riding and adventuring.
I completed the 761 mile route with 35,000+ feet of climbing in 58 hours, 41 minutes, and 2 seconds on just 45 minutes total of sleep. My original goal has been to be under the Charlie Miller 56 hour time, which as an American would earn me an award for beating the time of the first American to complete the event. But those cramps early meant I had to dial it way back. Even then, I was on track to beat that time except for running into sleep issues late. Then once it was clear that I wasn't going to make my 56 hour goal, I slowed down even more and took additional time at the last few checkpoints to eat and rest.
After finishing at 3AM, I had to ride 27 more miles back to my hotel. This was very difficult and I fell asleep a few times when I stopped to check the map on my phone. I'd be staring at my phone trying to figure out which way to go and then I would just fall asleep right there and then wake with a jolt. I couldn't sleep at the finish because I had to get back in time to make the train tickets I had bought to begin my long journey back home to Alabama via Amsterdam and Copenhagen.
The Details
My own "Paris-Roubaix" commute to the start
I stayed at the closest Holiday Inn Express hotel so that I could use my points to book the hotel for several nights. My long time friend from Birmingham, Alabama – Luke Caldwell – who is currently living in Birmingham, England offered to bike down with his bike so that I could borrow it for the ride instead of having to travel all over Europe on a complicated train/plane itinerary with a bicycle in tow.
This worked out perfectly except the closest IHG hotel where I could use my points was in Velizy about 27 miles away from the starting area in Rambouillet. This turned out to be great for all the adventure it added, but it did mean I biked an extra 27×4 = 98 miles total just on my commutes to/from the starting area to pick up my registration packet on Saturday and then to the start of the race on Sunday and then again after I finished early Wednesday morning.
The "bonus" miles turned out to be some of the best miles of the trip. Multiple miles of singletrack and gravel, a close-up view of the national velodrome in Saint-Quentin which is the site of the 2024 olympic track cycling events, a dirt road through a farm with goats and horses, and a surprise scoot/walk through the middle of a kids amusement park.
The "Forest of Arenberg" is one of the most famous sections of cobblestones in the Paris-Roubaix bicycle race, one of the most famous of the one-day cycling classics held in the spring before the three big grand tours (Giro d' Italia, Tour de France, and the Vuelta de España). As I biked the 27 miles from my hotel in Velizy to the start in Rambouillet and found that Google Maps biking directions had routed me through many miles of dirt / gravel / singletrack forest, I couldn't help but think that this was my own personal "Forest of Arenberg" on the way to the start of Paris-Brest-Paris.
I couldn't help but whoop with laughter/joy a few times as I was cruising along mile after mile through the forest and eventually popping out onto more single track and double track taking me through wide open fields to reach a town. I was a little worried about flats, but also realized that at a slow pace and picking my line carefully I was probably less likely to get a flat as taking the gravel / glass / road debris paths along the route I had taken the day before to pick up my registration material.
Eventually, the walking paths through the fields and forests led to a small town, and as I made my way through town I realized that I was almost out of water. I really wanted to stock up on gatorade at a gas station, but the best I could do was find a grocery store where I couldn't find anything cold to drink that seemed like it might have electrolytes. I settled on a 1L bottle of orange juice which I drank in its entirety before the start of the ride.
I knew Rambouillet was going to be super busy with 8000 riders and all the associated cars and families and friends there to see their riders start. What I didn't realize is how I would find cars lining the sides of the road literally miles before the start of the event. I stopped at one of these cars to borrow some chain lube for my chain and for my left pedal which was an older pedal that had quite a bit of rust and was difficult to unclip my left foot. Several times I had to stop and take off my sandal and then use both hands to wrench the sandal out of its clip on the pedal. The reason for this is because I couldn't get my good left pedal off my road bike. I think it has rusted in place. I tried spraying some lube onto it and letting it soak, but I couldn't get the pedal off. So I had to take one of my older pedals with me to Europe instead to use on Luke's bike.
The calm before the "cramp" storm
I made it to the start area by about 3:15 and, yes, there were people everywhere but it seemed surprisingly calm. One big tent was setup for people who had ordered the pre-race meal (I had not – big mistake – get the meal!). In my head, I had imagined there would be big jugs of gatorade for riders. Instead, there was a long line to get water from a slow tap of water. I had brought some food with me so I sat down and met a husband / wife team from Raleigh, North Carolina. I chatted with them and got even more excited for the race as they told me about what to expect.
Their start wave wasn't until 5:30, about an hour after my start wave, and she mentioned something about rushing through their food. This made me ask them when I walked back after taking picture of the 4:00 wave starting, if I should already be out there since my start was at 4:30. They said "yes, go now!". So I grabbed my bike and headed to the back of my wave which was already assembled behind the start line. No problem! Except, you had to do a long check-in process before you joined that line.
From my reading of the information the organizers had distributed, it seemed like they were going to do the brevet card and equipment check while we waited in line before our start. Technically, that's what they did, but it was a DIFFERENT line than the actual starting line. There was a separate place where each wave gathered. They were already finished with everyone from my wave and had mostly finished with everyone from the next wave. Thankfully the volunteers waved me around past everyone so I could have my equipment checked and brevet card stamped. Then they waved me around the next line which was the queue before entering the start area. I made it back up to the back of my start wave with about 5 minutes to go before our start.
I stood next to a German rider currently living in Sweden. We started chatting after he got my attention and told me one of my straps had come undone from my saddle bag. I fixed that and we nervously chatted as they counted us down from 10 seconds to start. The official blew the whistle and it was a good 15 seconds before we even moved as 300 people had to negotiate the gravel climbing start and first turn. Eventually, we started rolling and I took it slowly at first but pretty quickly switched into road race / criterium mode where you are always supposed to be passing to make your way to the front.
I was especially glad I had moved up a few spots because the "whiplash" affect from riding very slowly over the cobblestones at the bottom of one hill while the front of the group was already going 20+mph up the next hill was pretty intense. This reinforced my desire to make it to the front of this group, but they were going super fast and everybody had the same idea so while I was trying to pass people, other people were also trying to pass me. This was all on just half the road as the road was not closed. Oncoming traffic was slowing and stopping, though, so it fairly quickly started to balloon into more like a 2/3rd of the road being used.
It stayed like this for several rolling miles until we came down into the first town and had to start negotiating some turns. I was far enough forward that the whiplash effect wasn't as bad, but I could never really settle into a steady pace. Instead, it would ease up a bit and then riders at the front would start going hard again and I would have to hit it pretty hard to make sure no gaps opened up. It was pretty much like a classic road race with a much, much larger field than I'm used to riding in.
Allez, Allez
Still, despite the efforts I was having a blast and enjoyed thinking that dodging all the road furniture (roundabouts, barriers, etc…) and negotiating cobble crosswalks in a large fast group zooming by people lining the course and making noise and saying "Allez, Allez" was just so awesome. It was my favorite part of the race.
Our group started to dwindle, but it was still pretty sizable (maybe down to 200) with a mix of "B" riders too that we had been catching who had come off their group that had started 15 minutes ahead of ours. That's when I felt a twinge of cramping and tried to down a couple gels hoping that it would be enough electrolytes to stave off the cramping. And I took closer notice of my efforts to try to smooth things out. But it wasn't enough … pretty much without warning my right groin cramped hard. And the shock/realization of what this meant caused all my other typical cramp points to lock up as I panicked.
I immediately stopped pedaling and went into my "relax, relax, relax" mode hoping that it would unseize before I came to a stop and it mostly did but when I tried to take another pedal stroke to regain my momentum my groin locked again taking my foot, my left quad, my right quad and my hands with it. So this time I knew I needed to stop. I had to just watch the group ride away. I knew there would be stragglers and other groups forming. I was still thinking that I could get started and "pedal" it out with easy riding for a bit. But I couldn't get going again without cramping and had to stop.
Eventually I ended up in a driveway and had no idea what to do. I had a coke in my backpack and figured it was worth a shot, but even trying to bend over and unzip the backpack caused another bout of cramp spasms. When those subsided, I carefully retrieved and drank the coke. After a minute or two, I was able to get started but I couldn't ride fast at all. I just watched groups roll by. Eventually one caught me on a downhill where I had some momentum and I tried to stay with them … and cramped. I knew at this point I needed to ride my own pace and ride slowly for a long time, all the way to the first checkpoint. I was thinking about abandoning the race somehow from that checkpoint but I knew I wanted to at least make it that far and reassess after getting some food and drink. There was still about 10-12 miles left to get there with some of the largest climbs so far in the race.
Checkpoint
To verify that you complete the entire course, there are about 15 checkpoints spaced about 50 miles apart. You have to cross a timing mat and get your passport book stamped. I took my time as I slowly made my way to the checkpoint getting passed by so many people, but made it to the checkpoint right around sunset. Since I wasn't desperately trying to keep up anymore and was just cruising, I actually enjoyed this a bit despite the rising concern of cramps likely bringing my race to an early ened.
When I made it to the checkpoint, there were so many volunteers directing you from the edge of town up to the specific path to follow to get to the bike parking area. I had originally intended to get through this checkpoint as quickly as possible to stay with the group I was in, but after the cramps I knew that it was more important to try to find as much food and drink as possible that I thought would help. I had been craving salt and literally licking my fingers and arms to try to get as much salt back into my body hoping that would help with the cramps.
I settled on the first of many baguette sandwiches I would have throughout the race. This one had sausage on it. I refilled my water bottles and also got two cokes and a couple pan a chocolates to take with me. I took off again rejuvenated that it was possible I was going to be able to finish the race after all.
I started riding on my own, but eventually joined a group that caught me and was only going a little bit faster than me. By this time it was pretty dark. It wasn't a super cohesive group as several people wanted to go harder on the climbs and then would just coast down the hill the other side whereas others of us wanted to go a bit easier on the climbs and then tuck and fly down the other side. The variation and gaps that opened up were more entertaining than anything else and helped keep me awake. I didn't close down any of the gaps as I would have been fine riding on my own instead. Tons and tons of hills. I stayed with this group for quite a while through a bunch of towns. Even in the middle of the night, there were people out cheering for riders.
Our group split up at the next checkpoint and this was the general pattern, ride with some people to a checkpoint, then refuel at a different speed and end up riding back out by myself or with different people. A sizable group caught up to me around sunrise. We ended up missing a train and having to wait a few minutes for it which grew our group size even more as people made it there.
Austrian camaraderie
Two riders in this group were from Austria. They wanted to work together with the wind turning into our faces as we approached the coast. But a lot of the riders in the group wanted to push the pace really hard on the hills. So the Austrians and myself decided to back off the pace a bit and work together to fight against the wind.
Other riders came and went but the three of us stayed together for a long time. It was great to hang with them for a while. We got separated on the outskirts of Brest as I wanted to play some Pokemon and take it easy through the town, so I ended up making it all the way through town alone in the early afternoon. One of the Austrians, Stephan Wöckinger, caught up to me as I was leaving, though. The two of us rode together for many miles stopping to take pictures on the scenic pedestrian bridge over the bay where you could see out into the Atlantic Ocean in the distance.
I wasn't sleepy yet, but I was definitely tired and knew that my pace was limited on all the hills. And there were a BUNCH of hills through a new section of the course that was being used for the first time. One thing I was dreading at this point was where the course rejoined the outbound portion because the vast majority of riders would be on that part of the course, which meant that all the checkpoints would be very busy.
As it turns out, it wasn't too bad because a lot of the slower outbound riders were stopping early for the night. So as we approached the second night, the checkpoints didn't feel too much busier than they were on the way out. By nightfall I was pretty sleepy and we decided to stop at an intermediate optional checkpoint to sleep in cots that they had setup in a giant outdoor tent. It was so wet with many mosquitos, too, that it was hard to sleep, but I was also tired so I think I did sleep for about 45 minutes or so. When you checked into the checkpoint you told them what time you wanted them to wake you up and then they would come wake you up. Stefan and I were both already already up and starting to get things together to leave when they came to wake us up an hour and a half after we checked in.
Somebody else at that checkpoint was an American rider Jeff Koontz from Pittsburgh, Pennsylvania that would join us as we left long before sunrise and ride with us until late in the afternoon. Jeff and Stephan both waited as I had to make an emergency poop stop off the side of the road right at sunrise. I felt bad, but I absolutely could not hold it any more, and was thankful they decided to wait. We joined up with an Austrian friend of Stephan who helped lift our pace a bit. So it was the four of us together for most of the morning into the early afternoon where it had gotten exceedingly hot again.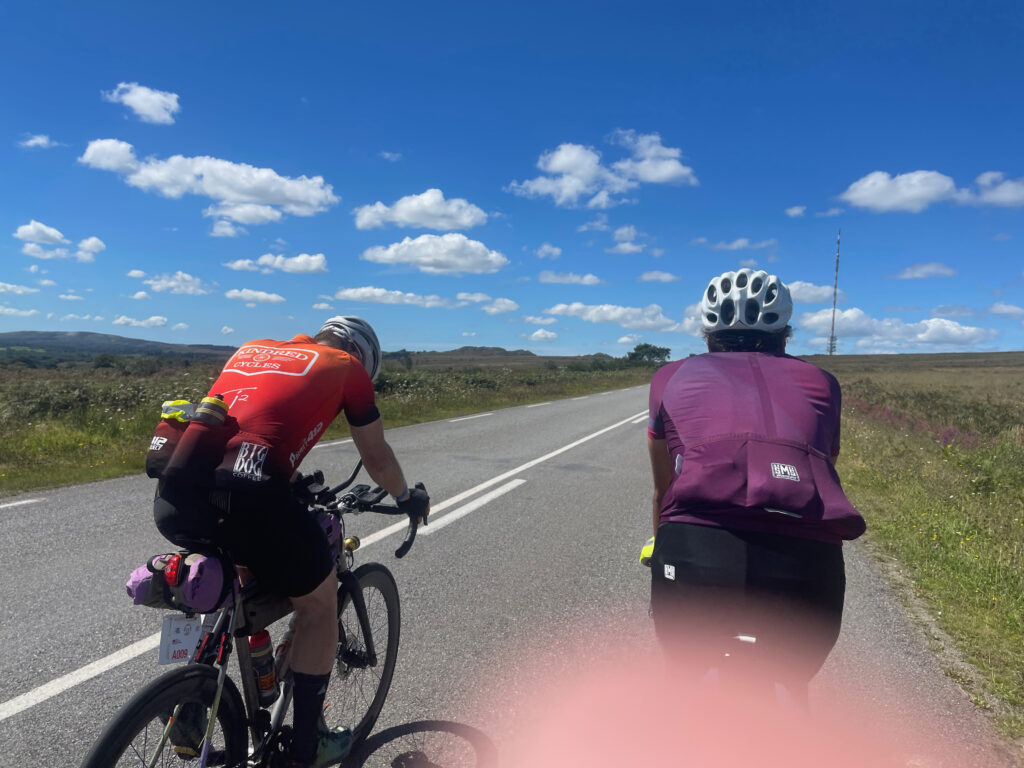 Stephan led us to a cool and famous crepe place where the owner is well known for giving out free crepes to all the Paris Brest Paris riders in exchange for mailing him a postcard from your hometown. He had a board displaying all the postcards he has received. I ate the crepe, but I still haven't mailed the post card. He gave us his address on a printed slip, but I haven't been able to find it after arriving home. I'm still determined to look it up to see if I can find the address online anywhere and mail in the postcard. If not, I will hand deliver one in 2027.
A late afternoon chase
Coming into the next town after the crepes, we decided on a short break at a public park with a bathroom. I wasn't the least bit sleepy so I played some Pokemon and tried to get things arranged. Jeff was really struggling with dizziness from the heat when the Austrians came by ready to leave. After checking with Jeff, I took off in pursuit. It took a while to chase back up to them even though I could tell they were riding easy.
The three of us got into a good rhythm for a while, but Stephan's faster friend decided to pull on ahead as I simply could not climb as fast them. Stephan waited though and we continued to work together for many miles. At one of the later checkpoints, though, we got separated and I only vaguely remember this because I remember stopping by myself at a very rural roadside stand where an entire rural French family had gathered. They gave me some free food and drink and cheered me on and were happy to try out their English with me (I think). They kept laughing so I think they were in good spirits and happy to see a completely shredded American say a few words in French and also in English. I kept saying bon journo instead of bonjour.
By this point we were hitting the inbound checkpoints again which I remembered from the way out. I was on my own through here, still, and I made it to the first checkpoint of the race around sunset. This checkpoint was jam packed with people. There were so many people there, many, many volunteers of all ages and then all the riders, too. I went all in with the meal ticket and had a very good meal.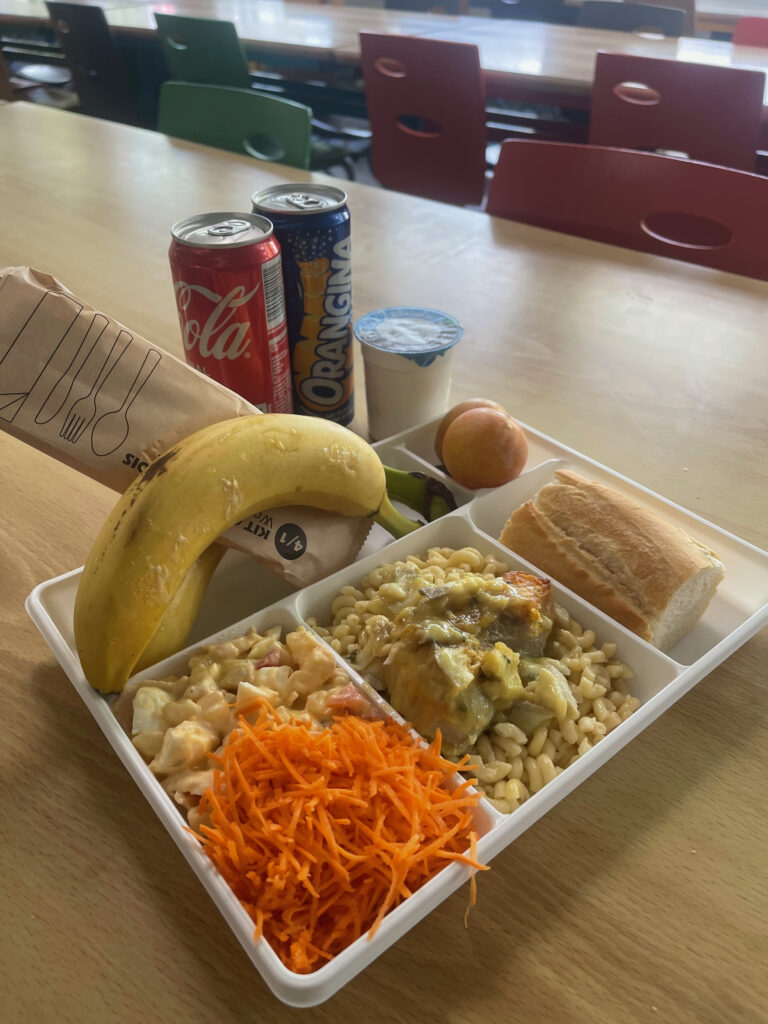 I plugged my electronic devices in and charged them while I was eating. Then I took off on my own as it started to get dark. I caught another rider and rode with them briefly, but I had a bit more energy so I took off with another rider who caught up to us. That other rider was way faster than me, though, so I ended up back on my own all the way until a fairly large group caught up to me, including Stephan! I must have passed him at one of the checkpoints. This large group was quite international with several riders from France, one from the Philippines, Stephan from Austria, a rider from Finland, and me from the USA.
It was extremely windy as night fell so I was thankful to have a large group to ride in. I stayed with them all the way to the final checkpoint even though the pace was much harder than I would have been doing on my own.
At that final intermediate checkpoint around 1:30am, I ended up rolling out with Stephan and the rider from Finland. We stayed together all the way to the end even though I had gotten beyond sleepy and started riding slower and slower. They helped motivate me and keep me awake and I'm deeply thankful for that.
It was around 3am by the time we covered that last 25km back to the castle in Rambouillet. I grabbed some food and a coke and set out backwards on the first part of the course for the 27 mile ride to get from Rambouillet back to my hotel to try to shower and get ready for my long journey home.
I was so thankful to have made it to the finish, even though I had watched the Charley Miller time of 56 hours slip away when it had been well within reach earlier in the day. My time of 58 hours, 41 minutes was good enough for 210th fastest out of 6500 riders. I know I could have done much better with better nutrition so I'm already planning to head back in 2027 with the experience from 2024 to put in a much better effort.
Still, I was elated and thankful and so happy to finish at all after the cramps early in the race. And, I still had enough time to make my train from Paris to Amsterdam for the start of the long journey back home to Alabama. But more on that in the next post!