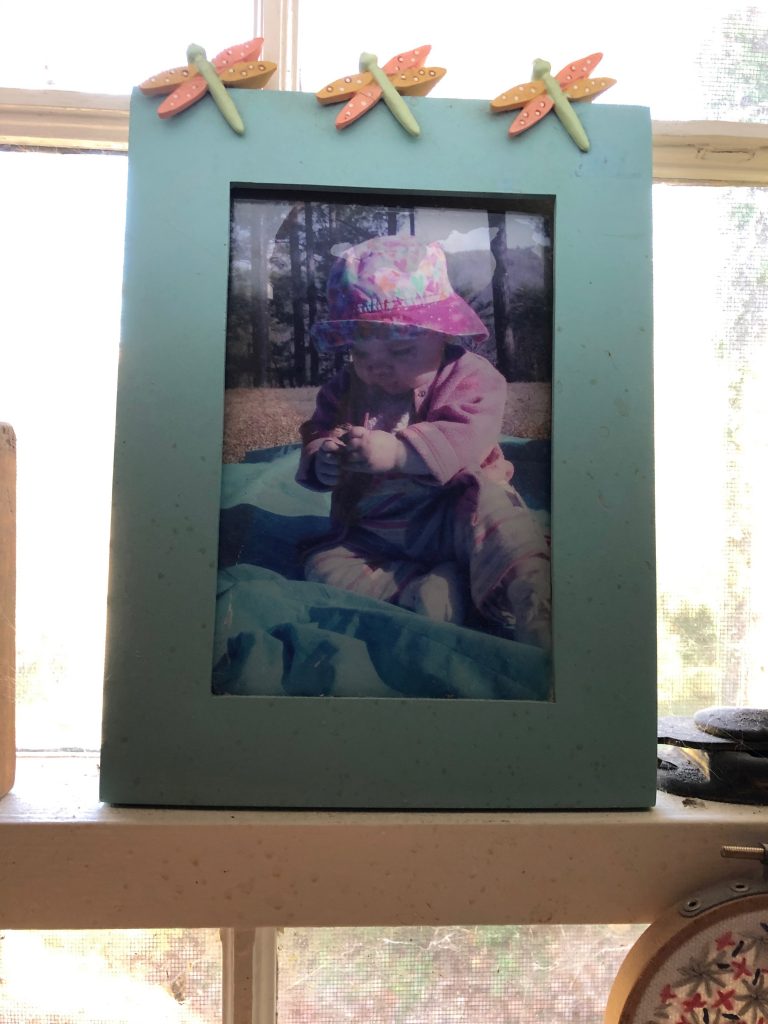 The left picture is my 8 month old daughter Analise at the second 2005 Sumatanga training race. It has been framed on the window sill behind our kitchen sink for close to 15 years. This picture captures perfectly for me what cycling has always been about.
The right picture is a similar one of my son Josiah from one of my favorite crits of all time – the Crybaby Hill crit, the finale of the Tulsa Tough crit weekend. Click on the right one to see the late, great Steve Tilford (Trek, jersey open, it was such a hot race, the hoses and squirt guns soaking us on the hill itself were an absolute necessity)

These are two of many, many examples where Kristine and the kids have joined me on bike racing adventures. But even when my family and friends can't join me on an adventure, cycling has always been about the adventure, overcoming challenges, and sharing those adventures with people closest to me.
26 – That's, the number of times I have raced what for me I will always think of as the Camp Sumatanga training race. Don't be fooled by the name, though. It's no longer called that, and it has never been "just" a training race. It's now called the Sumatanga road race series, and it has always drawn strong racers from across the South. Each and everyone of the races has always been the best way to start out the racing season, with everything that goes into bike racing – teams, strategy, survival, weather, sprinting, and drafting, all on a relatively tame course with mysterious wind and two miles of chip and seal that might as well be gravel … in fact might be smoother as gravel!
I have this note in my old Polar ProTrainer software in 2008 from one of the times I won the race – "Bike GSMR #1 1st place! Beat Olheiser and a BMC rider from North Carolina". At the time I didn't know Brent Bookwalter, nor did I know that he was coming back from a badly broken leg, but I did know he was racing for a professional bike racing team so I saw him as a rider to mark. We made it to that first hill at a pretty good clip, and I looked behind me to see Mike and the BMC rider immediately behind me and all 140 pounds racing weight me put in an all-or-nothing max effort attack up the hill hoping to establish a break with the two strongest riders in the peloton.
It worked perfectly, and I think we finished 10+ minutes ahead of the field. Mike did the vast majority of the work. Brent and I always pulled through, but for me at least, it was always at 75% effort saving something for inevitable attacks desperately not wanting to get dropped. But no attacks materialized, and as we rolled onto the smooth pavement, we had a bit of truce discussing everyone's sprinting abilities. All of us were pretty bad sprinters, so it ended up being Mike attacking first on the hill, me bridging up to him, but me not pulling through with Mike saying "we had him on the ropes." Neutralized again for just a few seconds, and then Mike led it out at the start of the downhill, I had slid to the back so Brent had to cover it and I managed to grab his slipstream perfectly and then slingshot around both of them at the end to win.
Fast forward to 2020. Yesterday. I was in another three-man group, but this time off the back just surviving the race. I was struggling a bit in the group when there was a split in the field on the second of six laps, and I was caught in the back half. One by one, people attacked and managed to make it back up to the front group until there was only four of us left. Travis Sherman and I went super hard up the county line hill on the backside of the course and bridged across onto the group just before the turn onto the chip/seal. The other two didn't quite make it.
On that next lap, I was recovering at the back when a rider swerved over a bit when he stood up to climb on that same county line hill, clipping Jonathan Crain's front wheel sending him head over heels but thankfully straight into the grass – the safest place to land. A few minutes later I would see and talk to Jonathan again briefly in the follow-car which caught up to me right after the chip seal where I had come off the back of the group on the downhill leading to the smooth pavement. My right leg had gone from the tingling of a cramp to a full cramp just from the rough road. I coasted and unclipped hoping it would relax quick enough on the downhill in time for me to drill it back onto the back of the pack. But with 30 miles left to race, it probably would have given out again before the end. In any case, it didn't matter because it took until nearly the bottom of the hill before the cramp subsided and by that point the pack was long gone … certainly too far away to bridge back up with the minimal effort required to keep the cramp at bay … so I chatted with Jonathan checking to make sure he was ok before they sped up in the follow-car to catch onto the back of the race.
At this point, I thought I was in last place and was determined to finish the race. But my leg was still on the edge of cramping and did indeed lock up one more time on the 19mph lap I did – 6mph slower than what we had done on the first lap. As I crawled along towards the end of that fourth lap, I kept waiting for the masters field to catch me and was trying to remember the rules of whether or not I could sit onto the back of their pack, but instead, the two survivors from earlier – Andrew Harris and Forrest Howard – caught back up. I hopped on and told them I was cramping pretty bad. I tried pulling through a few times but in the end I couldn't pull through every time and was on the edge of cramping so I asked to just sit on as long as I could which lasted until the chip/seal on the last lap where I came off again finishing in last place, dfl. My first dfl out of 26 camp sumatanga races. Still though, I had a blast and was impressed at Andrew and Forrests' determination to pull hard all the way to the end.
Finishing last got me thinking back on the races to see where all I had finished, so I used Strava segments to find the ride files where I usually posted my finishing place in the ride title, plus my racing blog, plus the photo on my kitchen window sill to remember back to earlier races pre-strava, pre-blog, and figure out all my placings over the years. Here's a quick summary and then an embedded spreedsheet with all the results. These are sorted by fastest lap time. Note, that yesterday's first lap was my fourth fastest lap time ever out of the 101 times I've lapped that course on Strava.
| | |
| --- | --- |
| Place | Count |
| 1st | 7 |
| 2nd | 4 |
| 3rd | 4 |
| 4th | 3 |
| 5th | 2 |
| Other | 6 |
Camp Sumatanga race results – 26 races
[googleapps domain="docs" dir="spreadsheets/d/e/2PACX-1vRdEYyaMBR3vny2WEsWsqShqAZDeHjCZKEkz9vOR1-XHwlBKjI20JyCOKG3Sxfo6635Vf47fpNG_XkO/pubhtml" query="widget=true&headers=false" /]
I have so many memories from the Camp Sumatanga race. I realized yesterday though as I couldn't remember what number to put after 4 for my racing age that I've already advanced up into the old timer's category at the ripe old age of 43 … getting hit by a couple cars and numerous, numerous bike wrecks over the years your head takes a bit of a knocking. I raced with a racing age of "4" yesterday … in the 1/2/3 field … lol.
I do want to share one more memory, probably my best from all 26 races. It was 2015, and it was the first time I had ridden to the race from my house. Here's the first two notes I left on Strava:
Great race today … I made it into a six man break on the second lap – then attacked the break with two laps to go to make it a 4 man break. Justin Prior attacked with one to go to make it a 3 man break. I attacked on the last hill to come in for the win! I rode pretty easy on the way there, and the ride on the way home was a really fun route. The off and on rain made for a long day, but at least it was warmer than it has been!

Also, I set three personal records today – most climbing in a week 122000 feet, most riding in a week 700 miles, and also a new 40k record (58 minutes) during the race.
It was March 2015, and I was in the middle of a heavy training block for my first Race Across America. But I still managed to win the race, surprising myself very, very, very much. I still remember climbing up US-231 after the race to make it to the gas station at the Blount county line on the start of my ride back home to Birmingham. I remember just having this indescribable feeling of accomplishment and happiness with the waterfalls from the rain cascading on either side of the road. I called Kristine and told her about the race (that gas station is also the first place you can get cell phone reception). After getting some pizza and gatorade, I biked home across Pine Mountain and down through Clay, Trussville, and Birmingham. Sure, winning the bike race was a key part of that feeling, but it was more than that. I was away on my bike like I was 10 years old again racing the bus around the neighborhood, free to fly home through the clouds up on Pine Mountain and outrun all the dogs of Blount County.