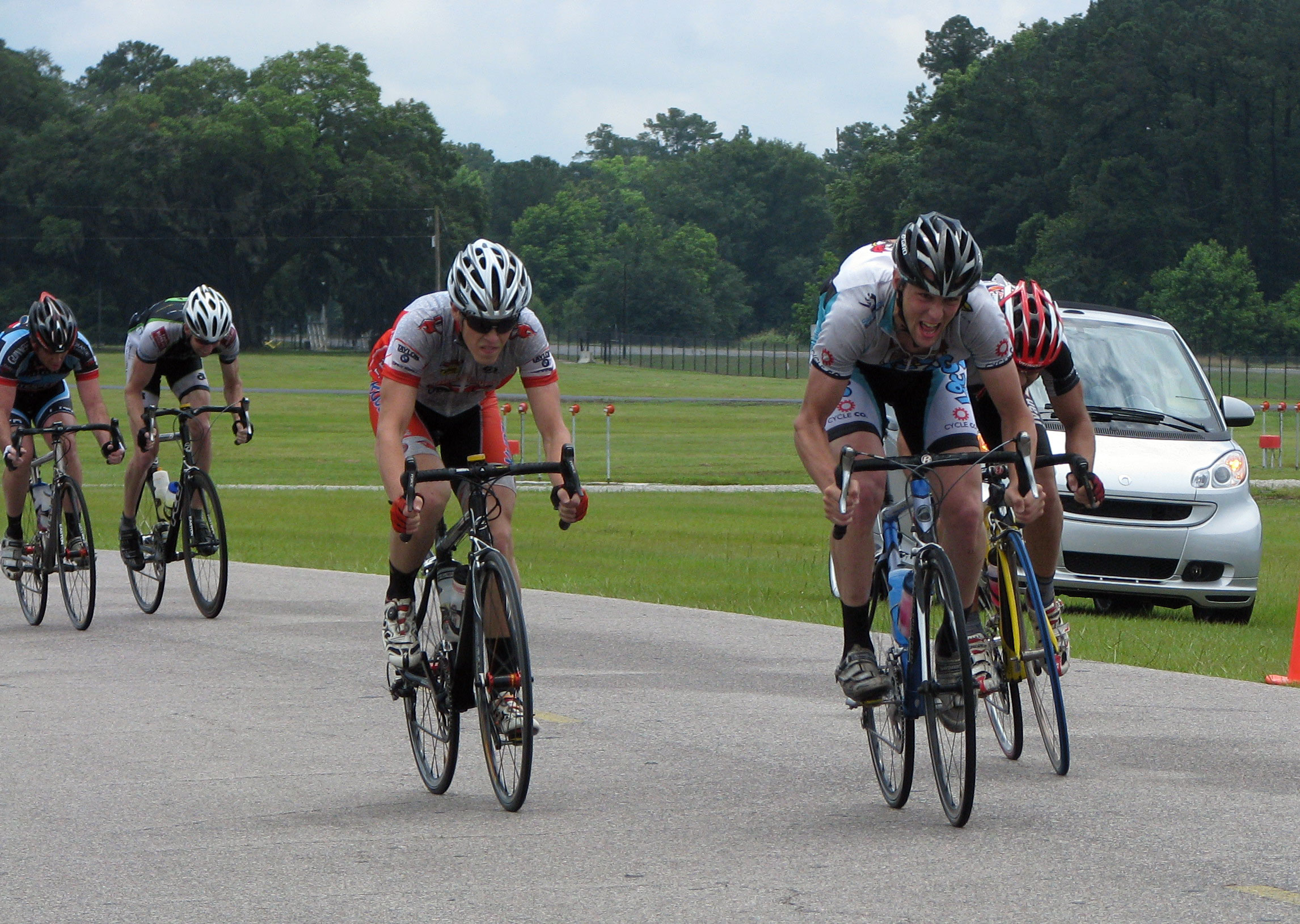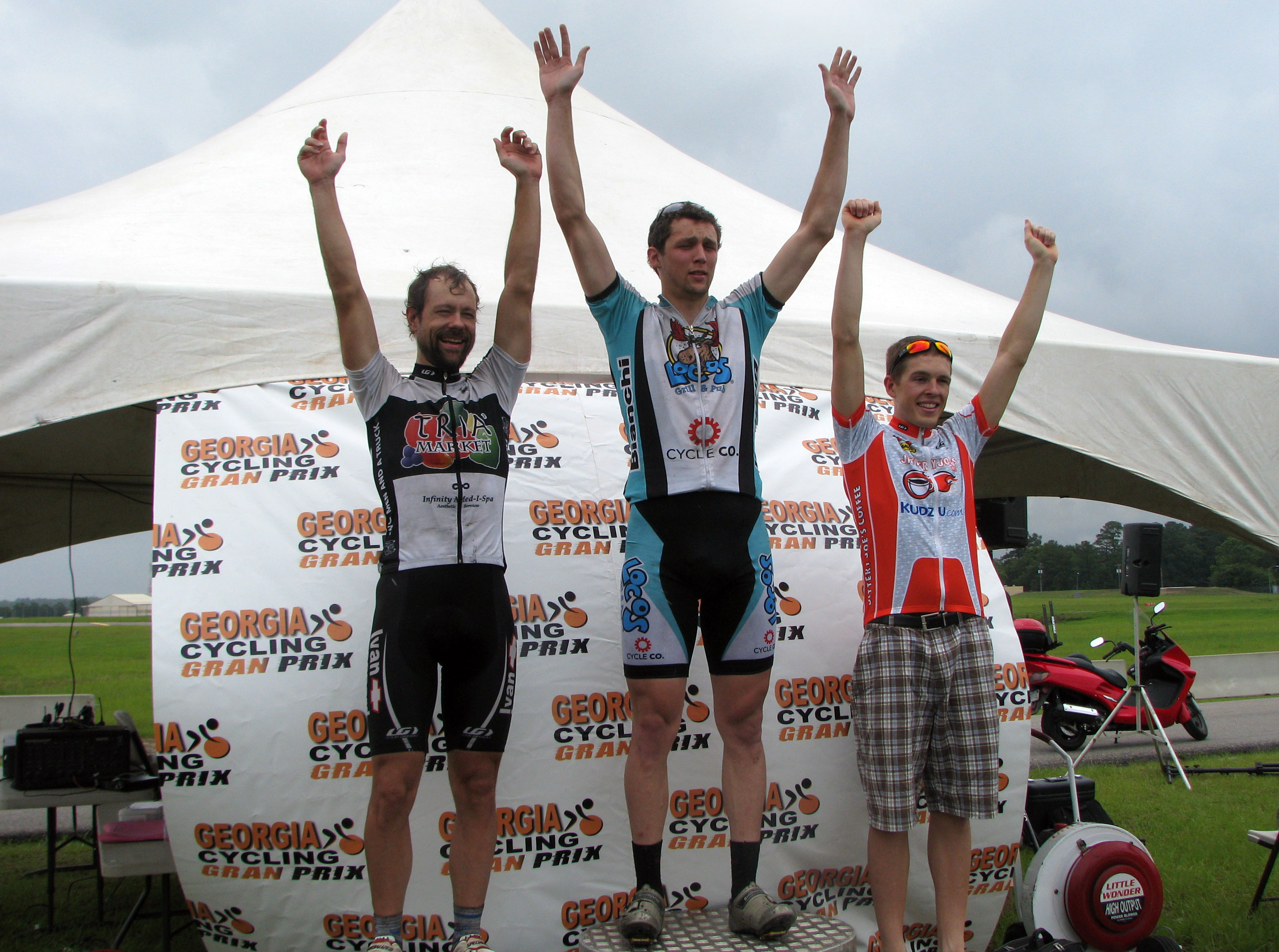 Another great weekend by the folks at Swagger and the Georgia Cycling Gran Prix … this time in beautiful Beaufort, SC and Port Royal, SC. This was a long 7 hour drive (8 hours with stops for the kids), but it was fun to have a mini-beach vacation and visit my grandmother in Florence not too far away. Kristine snapped this picture of the last 150 meters of the finishing sprint of Sunday's road race. Jafer Bezier (Jittery Joe's) led out the sprint followed by Casey Magner (Locos Grill and Pub) and me (Tria Market / DonohooAuto.com). In this picture, Casey has already passed Jafer and I'm in the process of trying to pass both of them, but Casey was way too fast and I only started to come alongside him by the finish line for second place. Jafer rounded out the podium after a strong aggressive race (see details below). Here are my race reports:
Time Trial (Saturday AM)
I skipped the time trial so that we wouldn't have to drive over on Friday and spend an extra night in the hotel. Instead, we left by 6:15AM central time to make it there by 3:00PM eastern time to have a nice long warmup before the crit.
Port Royal City Criterium (Saturday PM)
There were some pretty heavy thunderstorms just a few miles away from the crit location in Port Royal, but fortunately they drifted north and we stayed dry and sunny. The course was flat and fast with four corners. The strategic part of the course was Turn #3 and #4 which were narrow and rough. I made it into a couple early moves that got brought back and then went hard for a $20 prime, but Cleve Blackwell (Myogenesis) was able to outsprint me for it. Late in the race, Nick Housley (Myogenesis) got away solo and built up a 15 second lead that he was able to hold until the end. I thought I had worked my way into a good position for the last lap sitting in fourth position after Turn #2, but I hesitated instead of attacking and a move went up the rightside while I got blocked in on the left. So I started the sprint in 15th position and passed a few people to finish 11th.
US Marine Corps Air Station Road Race (Saturday PM)
What a unique racing experience! We did six 10.5 mile laps on beautifully paved roads entirely within the US Marine Corps Air Station. We basically made a loop (with lots of twists and turns) around the runways and through the forests surrounding the perimeter of the base. Check out my topocreator map of the race below: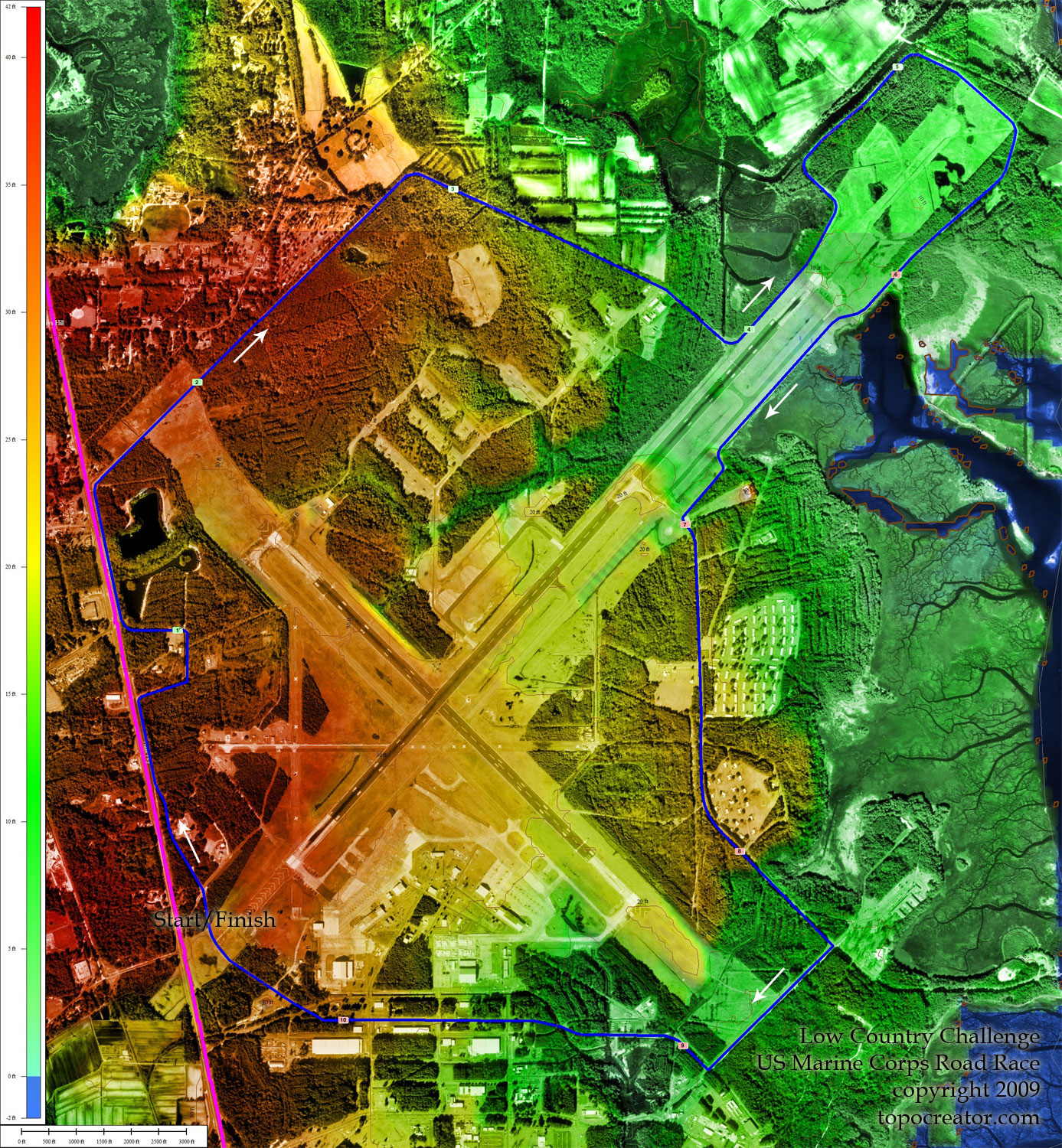 Here is how the race played out:
It was pouring down rain the entire race. I attacked several times on the first lap to try to get away with a small break. No luck. Towards the middle or maybe end of the first lap, Jafer Bezier (Jittery Joe's) and Joseph Collins (Locos Grill and Pub) got away on the second lap. Myogenesis was the team missing from that break, but because neither of those two riders threatened their omnium position, they were content to let them ride away. I wasn't content with it though and tried to ride aggressively to get away solo or with a small break. By the end of the second lap, Jay Charles (Palmetto Velo) launched a solo attack and got away. Then two more strong riders, Nathan Smith (Lenovo) and somebody else made a move which Myogenesis worked to bring back. Finally, it was my opportunity — as soon as Myogenesis brought that move back, I counter attacked as hard as I could hoping to get away solo to chase down Jafer and Joseph — but instead I pulled two other riders with me — Chad Madan (Pacesetter Steel) and Casey Magner (Locos Grill and Pub). Chad and I worked together well to bring back Jay who still had a gap. Casey couldn't work with us because he had Joseph in the break. Eventually, once the three of us (Chad, Jay, and I) had about a minute on the field and as we closed in on Jafer and the other Locos rider, Casey started to roll through too so that we would have more chance of staying away from the field which Myogenesis would be driving.
I kept driving the break as hard as possible and once we merged with Jafer and Joseph, we started to extend our lead on the field to about a minute and a half. On the last lap, shortly after the moto official informed us there were five riders chasing hard at less than a minute behind us. I attacked our break because I noticed riders skipping pulls or taking short pulls. I was hoping to drop a couple riders and revamp our pace with maybe three or four of us instead of six. Well, nobody got dropped and instead there were a series of attacks and counter attacks from different riders. Nobody was getting away, though, so our pace started to drop. I was worried about the chase group and felt it was my responsibility to get things moving again since I had started the attacking — so I rode a steady 25mph at the front for maybe half a mile and we got it rolling again. Still, with less than a mile to go the chasing group was within sight maybe 30 seconds behind us. Locos played the team tactics perfectly sending Joseph up the rode first with a strong attack. Fortunately it was shortly after I pulled through in the rotation so I was towards the back of our group meaning the other break riders were in better position to respond and chase. They did and once Joseph was caught he just stayed on the front to ramp up the pace for his teammate Casey. Jafer was on Joseph's wheel and had to lead out the sprint. Casey was behind Jafer and I was behind Casey. At the end I was able to come around Jafer, but not Casey finishing about halfway beside him to take second place. Two weeks, two podiums!!!